The beginning of a molt is always preceded by an abundance of fluff feathers... and we are in fluff feather heaven at the moment!


While Coco is still expressing a few

mild

nesting symptoms, most of her chewing and shredding behaviors have subsided, she is rarely regurgitating, no longer assuming the position to lay a pretend egg, and has just now begun a molt. Fluff feathers are everywhere! Time to buy a pillow case and start stuffing! It wouldn't be so hard on the vacuum if it were not for the fact that the three budgie boys have also started their molt! (I think I might have smelled a smoky odor emitting from the vacuum as it struggled to keep up today!)


It has been a rather pleasant nesting season for Coco as nesting seasons go. She has been quite clingy and cuddly (unusual for a nesting season), wanting to be on me, with me and near me a great deal of the time. I noted that during the first two days of her molt, evidenced by seeing fluff feathers for the first time in months, she also experienced two days of very loose droppings with higher than usual quantities of urates (the white part). I tended to think this was just a transitional change, and decided to keep a close eye on her and give some extra rice for dinner.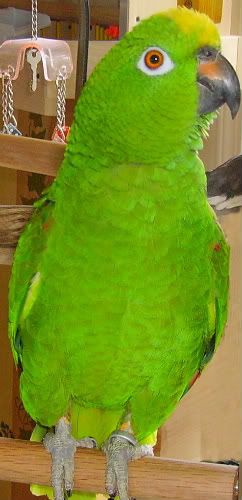 By the second evening, it resolved itself, and her droppings have been normal since.

I do not recall this ever being a part of the initial stages of a molt, but will make note for the next time around to see if this is a pattern.


Meanwhile, I decided to refurbish an old necklace that had seen better days by adding some fresh beads and restringing it. Coco gave the design two wings up!
COPYRIGHT © 2009 - ALL RIGHTS RESERVED