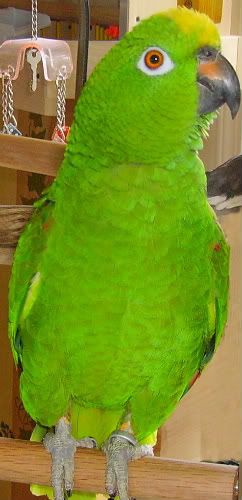 In my previous update on Coco (September 13, 2009) I had just increased her hours of darkness as much as possible. Today's sunrise was 7:26 am, and the sunset 7:12 pm, but by October 8, for example, the sun will rise at 7:31 am and set at 7:04 pm. As each day passes, the days get a few minutes shorter and the nights a few minutes longer. But in reality, we are still looking at 12 hours from sundown to sunrise.

One of the first changes I noticed was that her molt stopped within 3 days of adding additional darkness. I close the curtains by 5:30 pm, so she is in dimmed light as the sun naturally sets. The curtains are opened in the morning around 8:00 am, a good 30 minutes after technical sunrise. Of course, it is not possible to say that the additional hours of darkness are responsible for her finishing the molt.

Now, 20 days have passed since the schedule change. It is not much time, but many of these days her wood chewing has been minimal or non-existent, and she has returned to normal food consumption levels. There have, however, been a number of days that she has not done either. On the days when she chews a lot of wood and goes through a lot of food, I have observed that she is excessively hyped up that night and the following morning as well.

For example, last night I came home from work at 5:30, and there were wood chips everywhere, and she had gone through all of her food. She was a bit edgy, and did quite a few "excessively loud vocalizations". I took care of the budgies, chatted with her from across the room, and just remained low key. These are the times I will not ask for interaction, but I am able to run her through hers signs (sign language) which gives me a chance to positively reinforce her with one of her favorites: nuts.


This morning upon opening the curtains at 8:00 am, she was still full of herself. I have a small treat sized bowl that I place some tiny budgie pellets in, as she enjoys them as a treat. It is the only tidbit that she is not required to forage to obtain.

While I was placing them in her lower area, she was heading down the ladder with a obvious chip on her wing!

At that point, I had already taken a step back to observe her. Upon reaching the bottom platform, she grabbed the bowl and flung it clear across the room! Pellets went everywhere. I cannot be sure, but I believe I might have heard her say, "...and fill it again, idiot, and you'll see a repeat performance!"


When I went to the reverse side of her fort and picked up her nut jar, her entire demeanor and body language changed in an instant. She came up her ladder, sweetly, asking me how I slept, telling me I looked lovely today, and politely raising her hand giving me sign language to indicate she would like a nut!

Yes, she most certainly knows which jar her nuts come from! I gave her one, turned on her favorite music, and quietly left the room. After arriving home from work, I found no wood had been chewed, and she seemed in a relaxed state. She wanted to step up, so for the first time in these 20 days I carefully allowed her. I stroked her head, while remaining near her swing. This gave her the option to easily turn and move off my hand. After about 30 seconds, she chose to return to her swing, and received a nut for her pleasantness.

Given that I am only 20 days into the routine change, I continue to track and monitor her progress. Additionally, the nights are cooperating by becoming cooler, and this will also help reduce the hormones. The average bird room temperature at night is presently around 60 degrees.

So all in all, I am pleased with her progress. Ensuring that she receives her full allotment of darkness is my top priority. No exceptions, no late night movies, no popcorn - bed time is bed time!

I will continue to keep you updated on her progress!

COPYRIGHT © 2009 - ALL RIGHTS RESERVED