By this time tomorrow night (Tuesday), I will hopefully be long asleep in preparation for a very early Wednesday morning departure.

I don't know if any of you are like me - unfortunately, the night before a road trip it can be hard for me to get to sleep on time! So much to do!

I've done much of my work tonight and over this past weekend, but there are always plenty of 'last minute' things that appear like smoke from an abyss.

The most important final preparation will be administering my husband's final exam to see if he has in fact

retained

all of the instructions, rules, and guidelines I have provided on the birds' care in my absence. There is no room for a bell curve on this test - 100% accuracy, or we take it again from the top! Answers must be rendered both timely and correctly.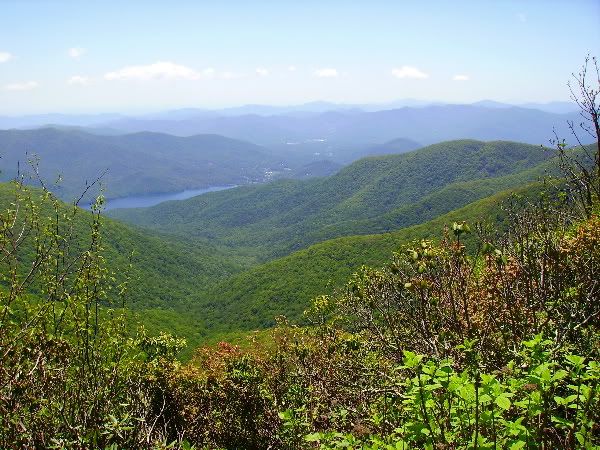 The 14 hour drive from North Carolina to Michigan is one I have made alone many times, and I rather enjoy the solitude of the road, my mind and music. This particular trip, to celebrate my nephew's wedding Friday night, will give me plenty of time to practice the song I will be singing during the lighting of the unity candle. (And, won't they be pleased to know Aunt Robin is going to practice - yeah!)


The first hour of the trip is the most strenuous for me. It is a time when I usually drive in complete silence as I travel through the western North Carolina mountains until passing into Tennessee (the flat-lands). Anyone who has driven that strip of Interstate 40 between Asheville and the Tennessee line knows of what I speak. The narrow, winding roads that lead through the mountain and tunnel passes are challenging in the daylight.
This is also the only part of the trip where there is no cell service, through what seems like endless walls of granite and quartz rock in the dark as your eyes are dodging headlights from oncoming tractor trailers. There is no 'median' during this treacherous part of the trip - only a concrete barrier wall that separates the two lanes of traffic that travel in each direction. I personally find it rather unnerving, and breathe a sigh of relief when I see the Tennessee Welcome Center in front of me and the sun rising behind me.
While I certainly do not enjoy the first hour, especially in the dark, it is essential to pass through the mountains prior to sunrise so that I will not be passing through Cincinnati between either 12:00 noon and 2:00 pm

or

4:00 pm and 6:00 pm. So the timing of leaving the mountains is actually based upon the arrival time in Cincinnati, which is approximately the 1/2 way point of the trip.

As hairy as it is traversing the mountain pass in the dark - - - it is nothing - - -nothing at all - - - compared to Cincinnati during rush hour

trust me

!
Once through the mountains and across the Tennessee border, I will catch Interstate 75 and ride that puppy practically all the way home. Passing through Tennessee and into Kentucky, the roads are straight, quiet and comfortable. I especially enjoy the wonderful Kentucky scenery. From there - it is a straight shot into Toledo, and out Central Avenue to finish the last hour as I cross the Michigan border. Easy as pie!


I am not sure how much time or internet access I will have during the trip. I will be leaving Sunday morning to return to North Carolina. So, at the latest, my next post will be the following day (Monday). If I am able, you can count on me posting an update or two between now and then!
Until we next meet back here - happy trails, everyone! I hope you all have a wonderful week/weekend.

And, anyone who wishes to say a prayer for my safe travel - it will be graciously accepted!

See you all soon!




COPYRIGHT © 2009 - ALL RIGHTS RESERVED