There are approximately 2,000 different types of salmonella bacteria that cause the salmonellosis infection, although not all affect birds. Organisms are transmitted through secretions of the nares and eyes, through the air (when these secretions, feather dust or droppings containing the bacteria dry, become powdery and can be inhaled), or by ingesting contaminated food or water.

Nearly all animals are susceptible to salmonella infections. Free-ranging birds, flies, rats and other rodents may be conduits of the bacteria. A bird may be a carrier, with no observable symptoms, but able to transmit the bacteria to other birds or people and cause acute illness. Humans may transfer salmonella infections to companion birds as well, especially greys, amazons, cockatoos and macaws.
The types of salmonella that may be present in companion birds are generally not considered to be dangerous to an otherwise healthy human. As with other diseases, the concern is for the young, the elderly, and those with compromised immune systems.

Treatment is more successful if the specific invading bacteria can be identified. If a salmonella infection is suspected, an avian vet can swab the cloaca, and any secretions from the eyes and nares, and send them for analysis.

The average incubation period is 12 to 36 hours.
In birds, some of the symptoms include:
Diarrhea
Vomiting
Fever
Dehydration
Weakness
Weight loss
Lethargy
Swollen eyelids
Fluffed up appearance
(In humans, the symptoms are much the same, in addition to abdominal cramps and headache, minus the last symptom on the list above, of course!)

Years ago, it seemed we only heard of salmonella in connection with eating raw or under-cooked eggs. (This is when I had to stop tasting the chocolate chip cookie dough.... because it had raw eggs in it.... bummer....)
However, recently there was an outbreak of salmonella in peanut butter, and I believe a suspected outbreak surrounding pistachios. It is what we commonly refer to generically as food poisoning, and it is no fun. In certain circumstances, it can be life-threatening.
When it comes to preventing salmonella in our flock (which then keeps us from being exposed to it as well), what is our best defense?

Gimme' a "Q"....
Gimme' a "u"....
Gimme' a "a"....
Gimme' a "r"....
ok... ok... we know the rest!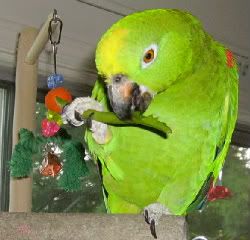 Better safe and healthy! All birdies... step forward and eat your veggies!
COPYRIGHT © 2009 - ALL RIGHTS RESERVED