To my amazement, I logged on this morning to see that 25 readers (the blog software calls them 'followers') have now joined!
The surprise of reaching 25 readers on this date is extra nice as it coincides with our 9th wedding anniversary!
When I made my first blog post on April 2, 2009, I was not sure if anyone would be interested in reading about living with birds, cage free or otherwise, in sharing the ups and downs, in seeing pictures of the forts, talking of behavior, or even listening to Barney whine every chance he gets!
My goal was simply to try to make one post each day.
On days when I feel tired, or cannot quite keep my thinking cap straight, reading your comments, seeing a new reader join, and private messages of encouragement make it worthwhile.
I believe the only days I missed were directly following Sammy's passing.
And those days, following Sammy's passing, were incredibly difficult. I cherish the words of comfort and support I received from you. Those who knew what it was like to lose a birdie companion. Those who did not question how one can be so attached to

just a bird

.
I felt myself lifted on your prayers.
A very special treat for me, in the past month, has been the opportunity to feature posts on

your companions

and the slide show photos of them as well. Photobucket limits a slide show to 50 pictures, and within a week of asking for photos, I had exceeded the limit! I quickly learned how to make group pictures! Seeing the photos of those beautiful birds, dogs, cats and even a fish (!) put a smile on my face.
Oh I almost forgot - the exciting news of the day! Last night I offered the millet to the boys by holding it between my thumb and second finger, with my pointer finger outstretched. Penske's was unimpressed, but Bucky, more settled and brave, set the pace and example by approaching! He placed one foot on my finger, and then reached across to eat the millet! At the second offering, he went ahead and hopped onto my finger entirely!
It is so rewarding to see their progress!
So we

all

want to thank you for your support and readership!
I truly appreciate each one of you, many of whom I feel I know as friends although we have never met in person.
Sammy
Coco
Strider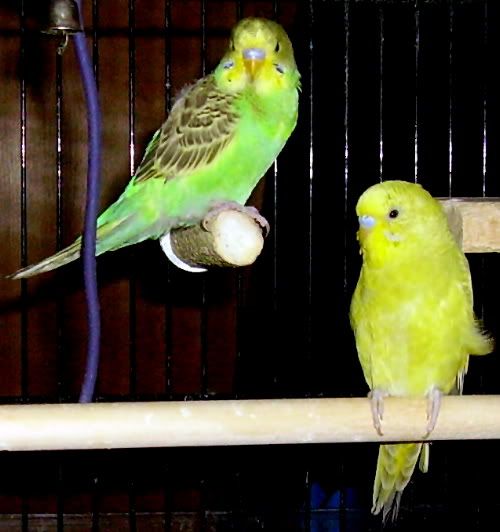 Robin and Barney











COPYRIGHT © 2009 - ALL RIGHTS RESERVED