July is such a nice time of year on the mountain! I say that as if there is a 'bad' time of year, and of course there is not!
The rock garden is in full bloom: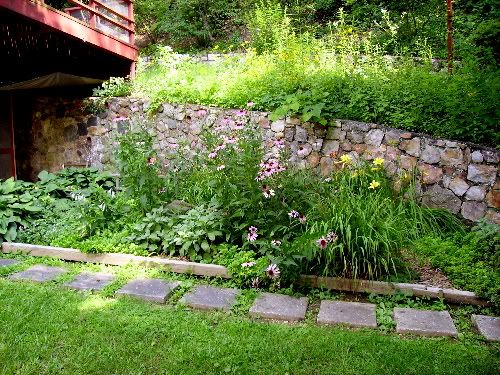 Black-Eyed Susans

pop up in some of the least expected places:
And, the wild berries begin to ripen!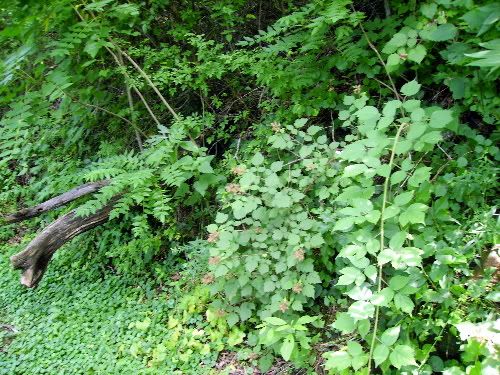 We have 4 types of wild berries growing on the mountain, mere steps from our deck:
1. Black Raspberries,
2. Red Raspberries,
3. Wine Berries, and
4. Blackberries
The black raspberries are usually the first to ripen right around the 4th of July. I always remember this because growing up my dad grew them, and at one point we had a u-pick operation (Peaceful Valley Berry Farm). The 4th of July weekend usually coincided with the height of the berry harvest.
Coco received a small taste of banana this morning, a real treat for her. She receives fruit selectively, and loves bananas. She also enjoys a

berry

here and there! My only concern with berries is that they somehow seem to end up in places where I do not want them (such as on the carpet or furniture)! A flick or two of her beak and I can have a mess on my hands!
Fortunately, I have discovered a

magic formula

to get out berry stains (and most other stains for that matter).
Equal parts of:
Water

Rubbing Alcohol

Non-Sudsing Clear Ammonia
(Remove the birds from the area before using; make sure there is plenty of ventilation, and use sparingly.)
For fabrics and carpets that are color-fast, I put the mixture into a spray bottle and apply. It has yet to disappoint me. Last year it got a berry stain out of a fabric footstool!
This magic formula is handy for a number of cleaning jobs. I have found it is better than anything I've tried for removing soap scum from tubs and glass shower doors. (Again - windows open and plenty of ventilation!)

A little bit goes a long way, so it is used sparingly.

I also spray a small amount on a sponge to wipe counter tops, and it is fabulous for cleaning the top of the stove, front of the oven and dishwasher, etc. It easily removes fingerprints from them - better than Windex!
But - forget about housework - and back to the

berries

!

One of the my favorite things is to take a bowl outside and simply pick a few fresh berries for that day's cereal (or better yet, ice cream!). Knowing these berries have not been sprayed with any chemicals or pesticides, and that they are steps away from the mountain deck, make them taste extra special!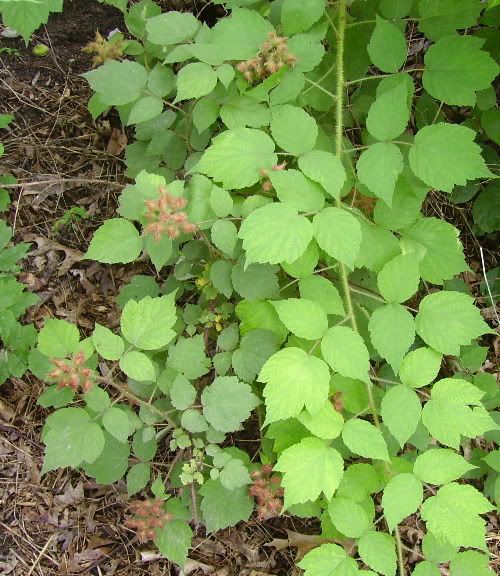 It will be a month or so before the wine berries are ready to be picked.

Any guesses why they are called wine berries?


(Hiccup.....)!



They are a bit on the bitter side, compared to other berries, but the birds like them just the same (both wild birds and companion birds!)

As much as I like black raspberries, to me the wild red raspberries are by far the sweetest and tastiest of all the berries here on the mountain. They will appear in the fall and are well worth the wait!

Blackberries offer a great deal nutritionally (for us and the birds), including plenty of fiber and vitamin C, in addition to vitamins A, E, and K, calcium, iron, protein, folate, magnesium, potassium, copper, and manganese.
So here you go - grab one or two of the blackberries below - they are ripe for the picking and great for the eating!


COPYRIGHT © 2009 - ALL RIGHTS RESERVED