A relaxed atmosphere fills the bird room today as the sun beams brightly across the m
ountain range. I could not be more pleased with how the transition is going! The flock continues to experience both togetherness and communication!
There is much body language 'flying' ar
ound the room - literally! They have their toys, food, music, a

great view

, plenty of flight space, and the ability to choose to interact (or not).


Sammy has spent the majority of his time on top of the main house. Perhaps after yesterday's physical activity, the old guy (28) can use a rest! He is in v
ery good spirits today, chirping loudly and looking bright-eyed.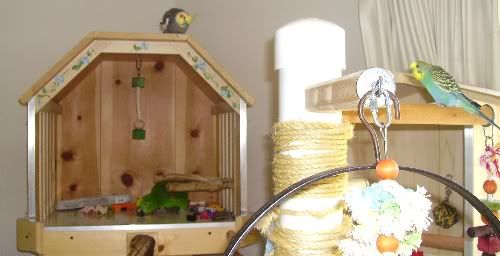 Strider has spent most of his time on the big-girl's swing! Claiming it as his own for the moment, Coco has enjoyed her main house and the nearby perches. She has always been gracious in sharing space with Sammy. I am hoping this same courtesy will be extended to Strider as the relationship and communications continue.
From my observations, I see a calm, settled atmosphere with plenty of preening, singing, toy playing and some eating.
Soon I will arrive with the fresh food, and I hope everyone will run/fly to their own place in
anticipation of some fresh corn and other veggies! With full crops and some evening music to set the mood, another successful day of transition will come to an end shortly after sundown.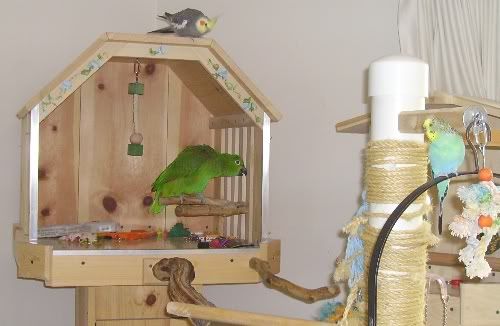 It has been a wonderful weekend for the flock.