Transition day started early, shortly after 6:00 am! Coco stayed to herself, while Strider spent 4 hours chasing old Mr. Sammers around like a puppy dog, trilling and singing much to Mr. Sammers' dismay. After all that non-stop activity, and a LOT of chattering and posturing, Strider took a break to grab some energy food.
At 10:00 am Coco got a shower, and shortly thereafter Sammy and Strider joined her on the fort. All was fairly uneventful until she left her swing (her favorite after-shower preen spot) to get a treat from me. That is when Strider decided to try out her spot!
She raised her wings out, postured, and turned to reclaim her position. Brave Mr. Strider took several side steps to give her some room to climb aboard and join him. (That is not exactly what she had in mind.)

As soon as she was completely on the swing, apparently Strider reconsidered the wisdom of his decision, and returned to his own area! A very good sign! Coco had already been sent to the ground, or chosen to retreat head first down her ladder to play in the corner of the room a number of times. This time, she was not going anywhere!

The entire flock settled down for some quiet time, which lasted from 10:00 to 2:00. Now that a thunderstorm is rolling through, things are getting geared back up again for fun and frivolity!
I hope to post an additional update later. Until then, here are a few photos I snapped after shower time. Sammy is over near the main house where he had been scrounging for food and then began to preen. Strider of course is checking out the big-girl's swing!
(Mr. Sammers giving advice...)
"Uh, hey - Strider, buddy head's up... she can be a little selfish about sharing that swing!"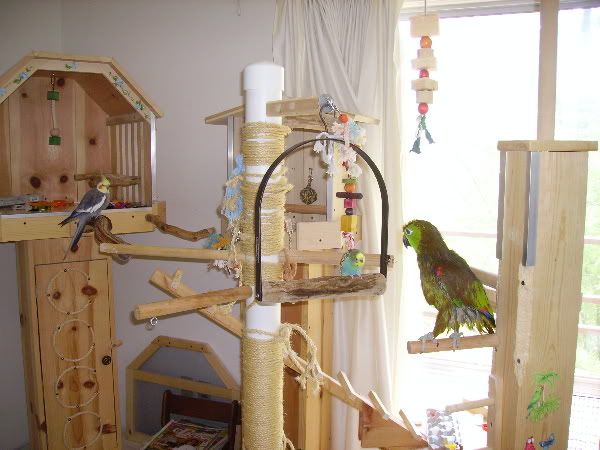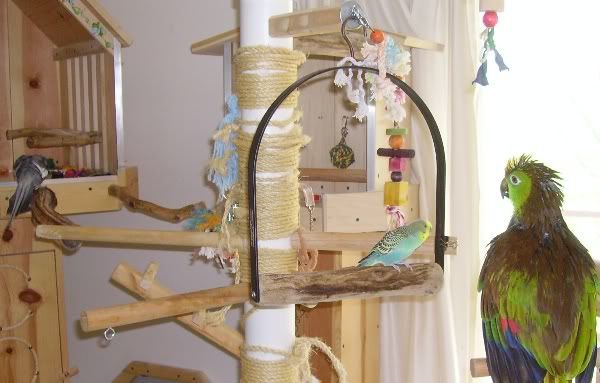 =========
A little after 3:00 pm - - you can see a LOT of body language in these photos!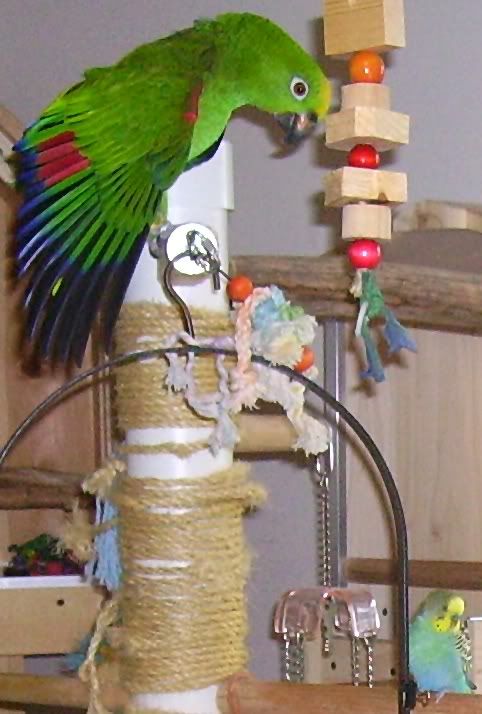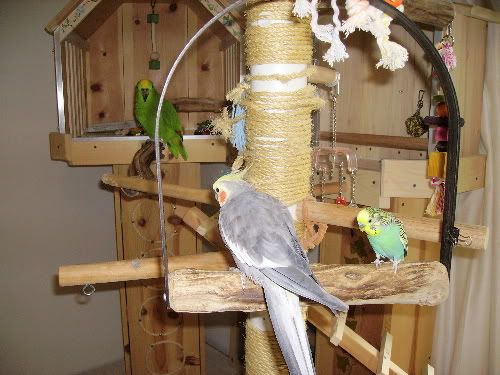 ====

By 4:00 pm, things were slowing down a bit in preparation for dinner and then sunset. Here are the 3 of them hanging out: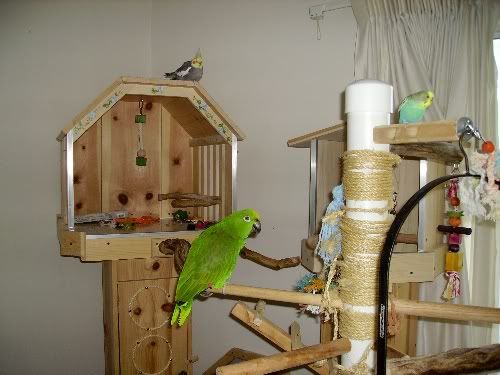 Around 5:00 pm, it was time to get some fresh food together. Tonight's menu:

broccoli
carrot
red cabbage
fresh corn on the cob
brussell sprout leaves
baby bok choy
small orange pepper (sorry - I don't know the name of it!)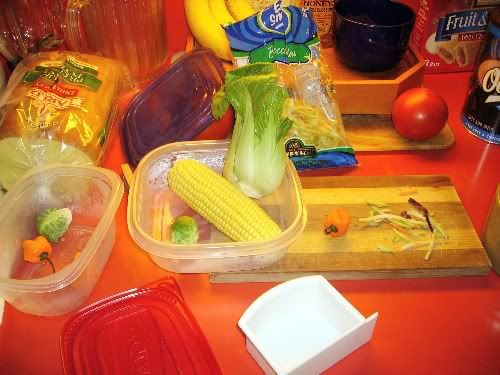 Coco always helps prepare dinner, and decided she should start eating immediately: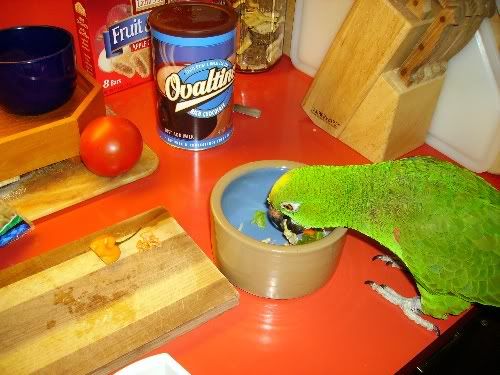 They enjoyed sharing a meal and messy faces!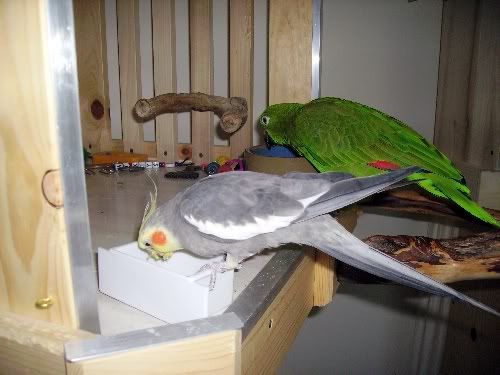 At 6:50 pm, Coco let out one scream - - this is her signal to me that it is time for me to close the curtains, turn off the music and attend to whatever other needs she may think up. When I entered the room, everyone was in their own place! That was exactly what I wanted to see!

So, we had a wonderful day! As I have noticed on a number of other occasions, it is best in these circumstances if I introduce myself into the mix as

little

as possible. I can change the flock dynamics, and complicate their communications. From my secret vantage point, I could keep an eye and check on them fairly unnoticed.

At some point during the day, everyone was everywhere! There was much physical activity, flight and mental stimulation. Sammy and Coco ate all their vegetables, and Strider pigged out on his pellets. Hungry and tired, they were all sleeping by 7:30 pm!

As I closed the door I said, "Get a good night's sleep, kids, because we'll be doing the same thing tomorrow!"