I have planned one more module on enrichment:

Auditory Enrichment

.
This will accompany the other four enrichment topics: Food, 'Toys', Physical, and Visual enrichment.
However

:

You will have to bear with me and wait at least one more day for the final installment... I have such exciting news, I must share it immediately!
====================
Announcing......
The completion of the first component of

Fort Str'ammy

!
Fort Str'ammy
, you ask?
Precisely!
We decided to create one large Fort that can be enjoyed by both

Str

ider and S

ammy

....
So I have decided to name it:
Fort Str'ammy
. It is perfectly scaled down to suit the little'r flock members!

Coco will have access to
Fort Str'ammy
, just as they have access to

Fort Coco

. I would think that the smaller perches would not be comfortable for her over-sized feet, but we shall see! The large perches of Fort Coco do not stop the little guys from hanging out in the big girl's space.

It will be fun for me to watch the ways in which they share and yet carve out their own areas of privacy. This is what Fort Living is all about!
Component I: The Food Hut
First and foremost, we must plan for a place to eat and drink. Food is Mr. Sammer's #1 priority!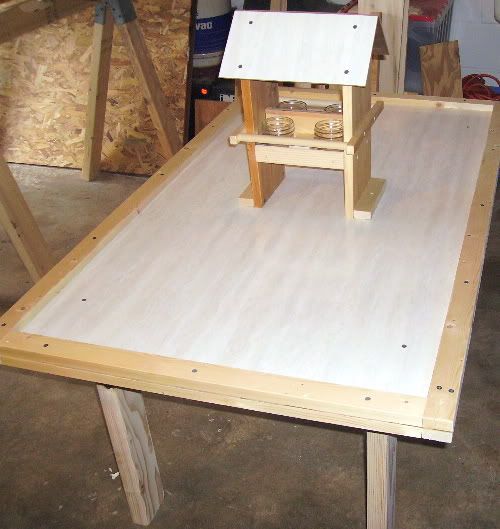 The dual-sided

Food Hut

is secured in the center of
Fort Str'ammy
, encouraging polite sharing.
I've chosen very small, glass mason jars for food and water dishes.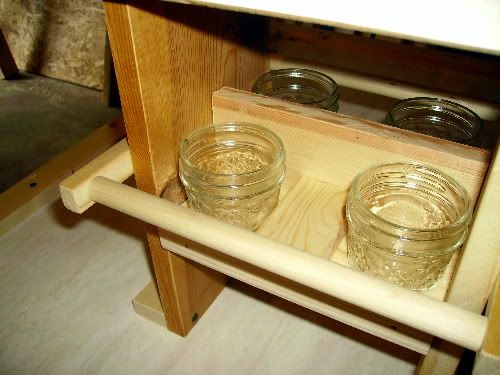 Benefits of using the small mason jars:
1. I wanted round cups; corners are difficult to clean;
2. I wanted to navigate away from using plastic; and
3. This size jar is small in both circumference and depth.

The design considerations of the
Food Hut
include:
1. It is secured in the center of the Fort keeping the food mess on the table top where it can easily be swept up with the mini-whisk broom.
2. Both Strider and Sammy may eat and drink simultaneously.
3. If anyone decides to breach the imaginary center barrier and cause meal-time chaos, a small picket fence can easily be added to the center wooden piece to encourage proper table manners.
4. It is too small for Coco to sit and partake (I think!)
5. The roof keeps the food area clean, and is highly pitched to discourage perching.
6. The roof is made from enameled masonite to allow for easy cleaning (in case perching is not deterred!).
7. There are plenty of surfaces for me to decorate!
I could not be more pleased with the design of the

Food Hut

!
And this is only the beginning! It is so exciting to see our plans come to fruition!

Stay tuned for future components of
Fort Str'ammy
(and the final installment of enrichment topics: Auditory Enrichment)!