Today - a new blog and my first post! I have had birds in my life for 30 years, and presently live with my friends. So it is time for an introduction (from oldest to youngest):


Sammy - a 28 year old male cockatiel: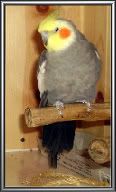 Sammy has been with me my entire adult life, and loves all foods and all birds. Now that he is a bit 'older', he takes a few more naps than he used to (don't we all), and he is just a great little fellow. He is quite a whistler, says a few words, and never met a piece of food he didn't like. He is my best eater, never turning down anything old or new! I know he won't be with me always, since 28 is pretty old for a cockatiel, so I treasure each day we have together.






Coco - a 13 year old female yellow front (also called 'yellow crown') amazon parrot: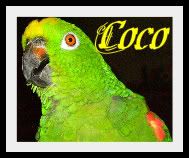 She has been with me since she was 3 weeks old, and I finished hand feeding her. Her nickname is "The Diva" and rightfully so! She is an integral part of my life, and teaches me something new everyday. I am always contemplating ways I can better her life and our relationship, by provide her with a cage free environment, foraging opportunities, and so much more.




Strider - a (?) year old male yellow face type 2 sky blue budgie:

Strider is the newest addition to the flock! I am guessing he is around 2. I found him in a tree last September near where I work. He didn't make it easy; I had to climb the tree to get him, and I am a little old for that! For a little guy, Strider is quite brave! He has no fear of the bigger birds, and will routinely attempt to take away the parrot's perch spot by dive bombing her as outdoor birds do at a feeder. Fortunately, Coco gives him a wide berth and a lot of tolerance!





Welcome to the Flock!